Brand Spankin New Trompe L'Oeil, Murals,
Faux Finishes and Painted Furniture by Art Effects
To see some of Art Effects' most recent work,
which covers a wide range of art work
from Children's Rooms to elegantly Hand Painted Furniture,
please follow the links on this page.
---
"We Put The Trick, In The Trompe Of Trompe L'Oeil"
---
---
Painted Ceilings using Trompe L'Oeil and Faux Finishes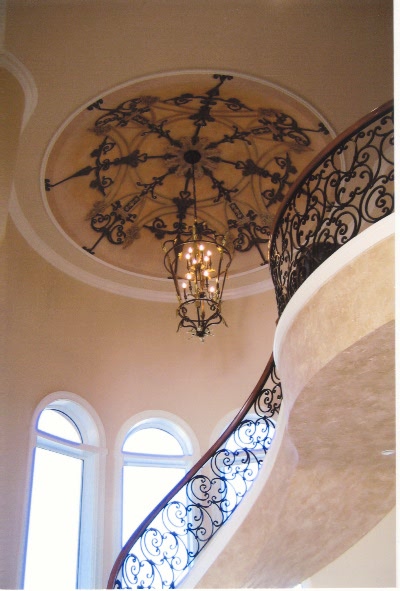 "Trompe L'Oeil Ornamental Wrought Iron"
---
Castles in the Air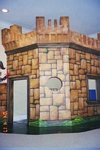 Creations for your imagination! Art Effects can create
3 dimensional artwork for your home or office.
---
---
---
Trompe L'Oeil Mural in a Bus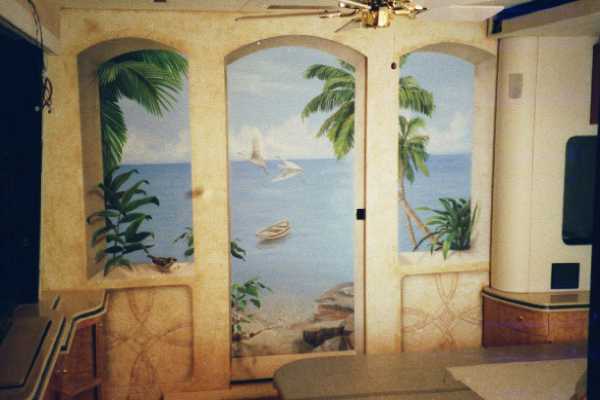 Cramped Quarters, but not cheap...this mural is painted in a million dollar bus, it has all the conforts of home (on wheels).
We painted this seascape mural on the very back wall of the bus,
in the master bed room suite, behind the door is a walk in closet.
By painting this mural using the arches it gave us the oppurtunity to add not just the arched Trompe l'oeil effect,
but the added extras with the plants and bird coming into the room.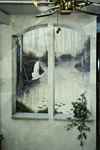 This is the second mural we painted for the same bus company. Something to note about these two murals and the reason we had to configure some type of division within the mural, such as the arches, is the walls in the bus retract while the bus is moving. Therefore when the wall is moved in you see the mural with a missing arch as a whole.
Trompe L'Oeil Effect using Arches
To see another one of Art Effects' Trompe L'oeil Murals using these type arches on a larger scale check out our Greek Window.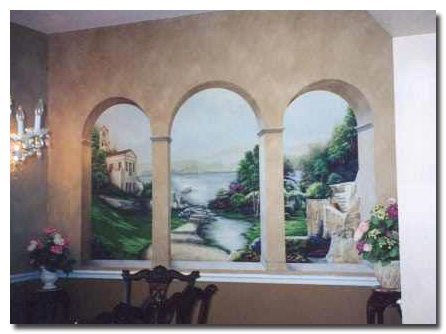 Art Effects' greek window Trompe l'oeil Mural
Trompe L'Oeil Niche
Another Mural project we have been busy on in a model home
is a niche with a twist...

Click an image for a larger view.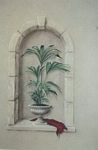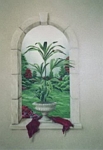 First the palm was placed in a niche...
Then we were requested to return an open the niche up and it became an arched window.
---
By clicking the following link you will be leaving our domain
and entering our www.usmurals.com Gallery and portfolio.
---
Seven New Pages dedicated to Trompe L'Oeil
---
---
top of page
Art Effects' Home | || Site Map | || Contact Us
An Artist | || Trompe L'Oeil | || Murals
Hand Painted Furniture | || Children's Rooms with Murals
Theme Rooms with Murals | || Wall Textures | || Faux
Wildlife Murals | || BUBBLES
Special Links | || ScrapBook and Leftovers
Step by Steps and How To's
Paper 'Plique | || The African Mural
Textured Stencil | || Faux Fossil Rock
Marble On A Ceiling | || In The BackYard Mural
Trompe l'oeil in Wyomissing
How to Break a Wall Faux Finish
How to Create Moroccan Leather
Let's Paint Faux Stones | || Our Message Board

Please visit the internet's most frequented
faux painting and murals message board!
---


Copyright 2002 Art Effects. All Rights Reserved.
Questions? Comments? Suggestions? Contact Us!



top of page

---
See Trompe L'Oeil and Murals
Painted by Art Effects,
using faux finishes
to create illusions
and Faux Finishes
with Art Effects
in the decorative arts,
throughout this web site.
---
Find Us Easy at


www.USmurals.com

Bookmark This Site
for future information
and examples of
trompe l'oeil and murals!
---
Site Map
Contact Us
Portfolio
Mural Painting
Wildlife Murals
Children's Rooms
Theme Rooms
The African Mural
Paper 'Plique
Wall Textures
Brand Spankin New
An Artist
Articles and Awards
Special Links
Decorative Art Sites
Art, Crafts, Unique Gifts
Web Building and Directories

---
Polk County Resources
---
---
*In The Works*
at US Murals' Gallery

Just want pictures
See The Gallery

Celebration, Florida
Trompe L'Oeil Mural

Architectural Dimensions
Step by Step
Building a Castle
using styro foam
and textures.
---
*Highly Recommended*
---

---
Greco Coatings
Marbelux® and
LIME PLASTERS
Bella Vernici
Architectural Concrete
Staining System
---
*Just In!*
New Pages Dedicated
To Trompe L'Oeil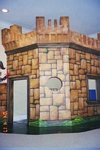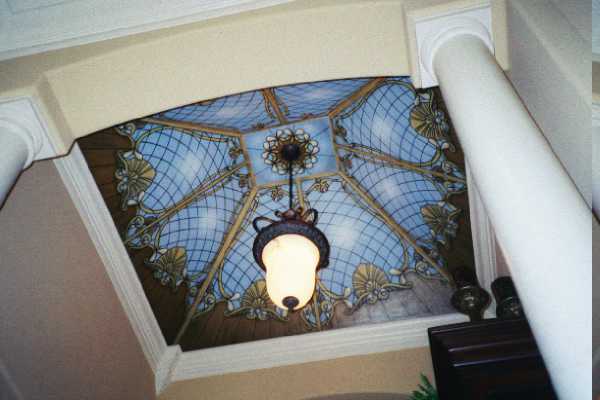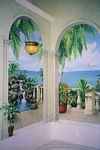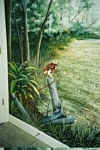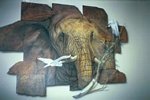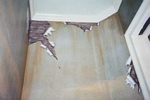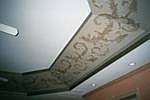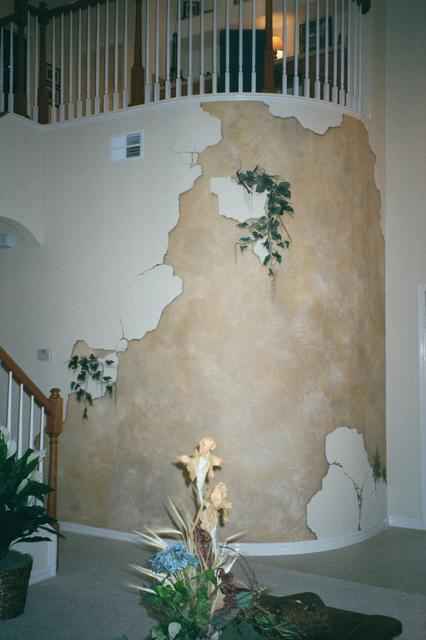 ---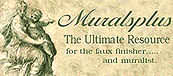 ---
---
FAUXtalk
Concrete Support Forums
Decorative Concrete Information
That Will Floor You...
---
---
---

Join Art Effects
---
---
InFauxWorld
THE ultimate location
for your information needs
pertaining to decorative art
and faux finishing for home
and corporate decoration.
---
---
top of page